Miklos
Administrator
1179 post
2019 Christmas sale
1. post - 2019.12.13. 18:55:03
Christmas promotion
The Christmas promotion will launch together with the Christmas celebration events. Between 16th and 23th of December, if you buy ancient stones, you will get a gift pack on your first purchase, depending on the amount, or you can send it to a friend. One player can receive only one pack.
20 ancient stones: 2 EUR or 25 ancient stones with mobile payment
3 ancient gold jokers, 1 christmas cake, 1 gift pack
100 ancient stones: 8 EUR
1 relic coupon, 6 ancient gold jokers, 10 snow crystal, 2 christmas cakes, 2 gift pack, 40 mytokronit jokers
350 ancient stones: 20 EUR
1 temple wand, 15 ancient gold jokers, 25 snow crystal, 4 christmas cakes, 6 gift pack, 120 mytokronit jokers
750 ancient stones: 40 EUR
2 temple wands, 30 ancient gold jokers, 50 snow crystal, 8 christmas cakes, 12 gift pack, 250 mytokronit jokers, 1 crystal mytoaffinity
1600 ancient stones: 80 EUR
4 temple wands, 70 ancient gold jokers, 100 snow crystal, 16 christmas cakes, 25 gift pack, 600 mytokronit jokers, 1 crystal mytoaffinity
mytokronit joker: exchange 2 for a brown mytokronit, or 1 for any other mytokronit.
ancient gold joker: exchange 3 for an ancient golden coin or a golden soul-focus, or exchange 1 for a luck coupon.
The opportunity is alive from 16th of Dec (12 am (noon) GMT+1 time, check the time on the bottom of the page). If you use an instant payment (bank card, paypal, onebip) you will have the option to give the present immediately. For delayed payment methods (bank transfer) you get the option when the money arrives. The bank transfer have to arrive between 16th and 23th of December to be eligible to give a present.
Christmas sale
Between 16th noon and 23th of Dec, we have a big Christmas sale: the soul-huckster gives 20% discount on the ancient stone price of all his merchandise (only items sold under "soul-huckster")! The same applies to the special daily offers during this time. 
Also the duration of auctions in the auction house will be 24 hours instead of 72 hours! Grab your unique relics now!
We will have some special items for this sale at the huckster just during this period. misc. items: potion of happiness, enchanted pet food, monster cocktail, locked chest, hunter's loot, lesser hunter's loot, berserker potion, minion crystal packs, mytokronit packs, gift packs.
Finally, we will keep track of the ancient stones you spend on this sale. Depending on the amount you spend, we will give you Christmas gift packs, look for them on the daily routine page.
Also look out for the Eye of the Beholder, the special wheel of fortune under soul-huckster!
Between noon of 24th of Dec and noon of 25th Dec (GMT+1), peace will take over the world of Doomlord: players will not duel and drain each other's soul-energy, so you can develop peacefully in this period. Pets morale does not decrease during this time. There will be also a discount to the soul-energy price of potions during this time.
We will continue to give support during the holidays.
We wish a Merry Christmas to all doomladies and doomlords! 
The Doomlord Team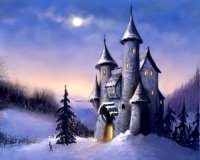 This post was modified by Miklos at 2019.12.16. 11:52:46
Score: 7.70