Miklos
Administrator
1179 post
The Pit of Doom
1. post - 2016.02.16. 16:28:44
The Pit of Doom is a new event, to replace Horde Wars. By schedule, the event starts on Thursday, 10am CET (4am EST) and lasts for 3 weeks.
The Pit of Doom consists of multiple levels. You start from the top, and go deeper and deeper. When you enter a level, it will be unexplored. As you begin to explore, the fog of war dissiipates. Squares can be empty, or you can find there monsters, doomlords, treasures, traps, soul-hucksters, quiz questions and other events. You get points for completing these tasks. If you collected enough points on a level, then you can fight the boss, and move to the next level.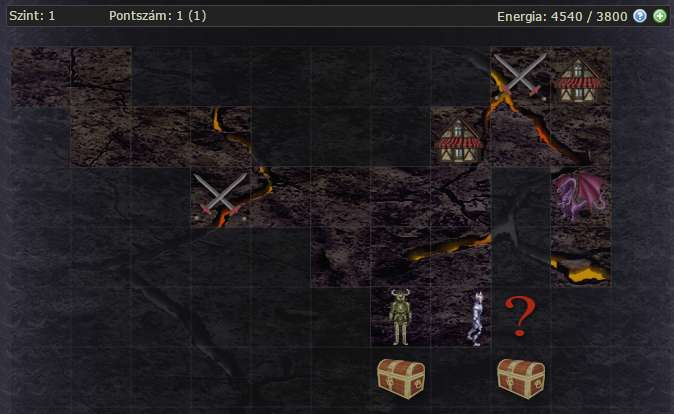 (will replace with English screenshot when available)
Moving around costs energy, you can buy energy for Action Points. For fights, you get SE and XP (3x the amount you get for a clan championship battle, 6x for bosses and demons). You also get treasure for battles and other events. The Pit of Doom has its own top list, where players are ranked, based on points collected. When the event ends, players get additional rewards (diamond/platinum/etc medal, horde trophies, energy concentrates, myto packs) based on their final rankings. Also every player who defeated the boss of the last level will get the new pit fetish (passive ability: increases the bonus of the mytokronit collector relics).
Additional informations:
- Quests: fights count for critical and stun repeatable quests.
- You can find burnt-out stones, grey mytokronits, astral treasures and subplasma in fights (increased chance compared to normal hunts).
- You can complete the following Temple of Doom tasks in the Pit: advance pet level, collect XP, hunt X times a day.
- Monsters in the Pit are generated by an alghorytm. Based on our testing, every normally developed character will be able to defeated them. But as a safeguard measure, we added the option to use berserker and madness potions before fights (you can also buy these from the soulhuckster), and also you can buy a curse for AS which can weaken all monsters of a given level by 10%.
- Pet capture: During testing, players notified us that it would be good if pets could be captured during this event, since APts are used. So now, you can find a special item in treasure chests, monster talisman. Very soon, we will add the option to use these items to summon a captured pet for you.
- SE/XP ratio. During the event, you use APts, but in the fights, the rewards are similar to championship battles, based on energy harness skill. We want to make sure disadvanced development players are not at disadvantage here. For this reason, the greater spacerift potions can be purchased at the start of the event, and also at the end. Additionally, for those who do not want to switch, we include in the reward calculaton alghorytm that if you have DD instead of EH, then your DD skill is used for calculating SE rewards.
Score: 7.63